Karlsruhe vs. Bremen -
Das Rematch!
University eSports Germany wird ihre Finalspiele erneut auf der großen Bühne austragen. Diesmal auf der Gamescom in Köln!
Was 2015 als StudiCup für das Spiel League of Legends begann, entwickelte sich über Jahre zu einer der umfangreichsten Hochschulmeisterschaften der Uniliga. Mittlerweile kämpfen bereits über 200 Hochschulteams um den Titel des League of Legends Hochschulmeisters. Nachdem die letzte Season ihren Abschluss auf der DreamHack in Leipzig gefunden hat, könnt ihr dieses mal live auf der gamescom mitverfolgen, wer sich den Titel holen wird.
Im Winter auf der DreamHack konnte sich Karlsruhe deutlich mit 2:0 durchsetzen. Kann Bremen auf der gamescom zurückschlagen?
Für Bremen Rolandoni und KIT SC White steht ein erneutes Duell um die Uniliga-Trophäe und einen 4.000 € schweren Preispool an. Eine spannendere Paarung könnte es für das Finale nicht geben. Die Bremer treten unter neuem Namen aber mit alter Stärke an und wollen sich den Titel, nach einer starken Saison, nicht noch einmal nehmen lassen. Beide Teams haben in den Playoffs bewiesen, dass sie heiß auf den Titel sind. Nachdem die Bremer im Winter, zumindest auf dem Papier, als Favoriten im Finale chancenlos waren, wollen sie nun mit Karlsruhe abrechnen. Doch auch Karlsruhe hat nach einigen Startschwierigkeiten schnell wieder an die Leistungen der vergangenen Saison anknüpfen können. Mit einem ersten Tabellenplatz, der nicht knapper vor dem Zweiten stehen könnte, geht dieses mal kein Team aus der Favoritenrolle heraus auf die große Bühne. Klar ist: im Finale treffen zwei Giganten aufeinander.
Wird Bremen Rolandoni sich den Titel diesmal sichern? Oder kann sich KIT SC White mit dem zweiten Titel in Folge erneut die Krone als bestes League of Legends Hochschulteam Deutschlands aufsetzen?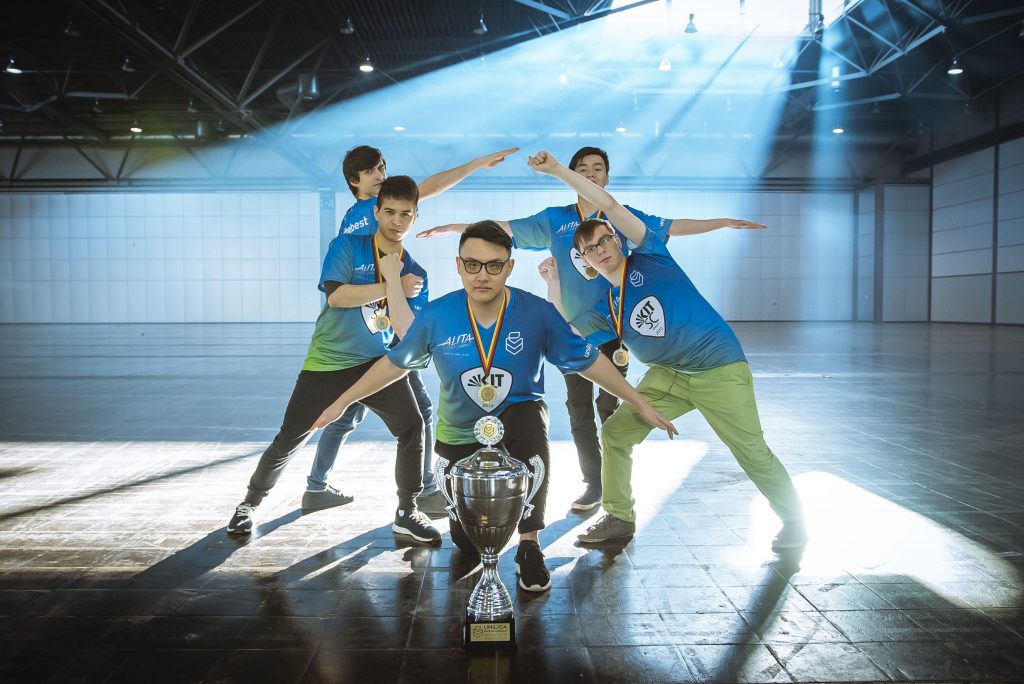 Wollen den zweiten Titel in Folge: KIT SC White
Das Finale wird am 23.08. um 9.30 Uhr in Halle 8 ausgetragen. Kommt vorbei und lasst euch den Kampf um den Titel des Hochschulmeisters auf keinen Fall entgehen. Für alle, die nicht nach Köln kommen können, übertragen wir die Partie natürlich wie immer auf unserem Twitch-Kanal. Für ein Finale der Giganten setzen wir zwei echte Uniliga-Legenden hinter den Caster-Tisch. Scorto und Rulfchen werden euch durch die Begegnung begleiten und bis zur Heiserkeit alles geben, was ihre Stimmbänder hergeben, um die Partie noch unterhaltsamer zu machen.
League of Legends Sommer 2019 – Finals
Halle 8 (ESL Bühne), gamescom 2019
23. August 2019 – ab 09:30 Uhr