Am Samstag, den 10.10.2020, finden die Uniliga Winter-Rivals 2020 in League of Legends statt. Teilnehmen können alle SpielerInnen, die in der 1. League of Legends Uniliga der Sommerseason 2020 teilgenommen haben. Jeder Teamcaptain erhält eine E-Mail in der er alle SpielerInnen seines Teams, die teilnehmen möchten, eintragen kann.
Hier kann sich jeder Teilnehmer zusätzlich als Teamcaptain zu Auswahl stellen. Aus allen aufgestellten Teamcaptains wählen die Uniliga Caster und Admins insgesamt vier Captains aus. Anschließend findet am 07.10.2020 die Draft-Phase statt, bei der sich die 4 Teamcaptains ihre Team zusammenstellen. Am Samstag den 10.10.2020 treten dann die Captains mit ihren gedrafteten Teams in der Kluft der Beschwörer gegeneinander an. Übertragen wird das ganze natürlich auf unserem Twitch Kanal!
Die von der Techniker Krankenkasse präsentierte Draft-Phase startet mit dem ersten Captain. In der Draft-Phase wählt jeder Captain im Uhrzeigersinn einen Spieler für sein Team. Dabei wählt der Captain aus dem Spielerpool einen Spieler für eine offene Position in seinem Team. Der letzte Captain jeder Draft-Runde darf allerdings doppelt wählen und startet somit die Runde entgegen dem Uhrzeigersinn erneut. Die Draft-Phase läuft solange, bis jeder Captain fünf Spieler in seinem Team hat.Die Draft-Phase findet am 07. Oktober 2020 ab 19.00 Uhr live auf unseren Twitch Kanal statt.
Ein Spieler kann in der Draft-Phase nicht doppelt gepickt werden. Ebenso muss der Captain immer seine Main Role einnehmen und muss bei der Spielerwahl die Rollen seines Teams füllen. Deswegen gelten keine Flexpicks! 
Aus jedem Team der 1. Liga können maximal 2 Spieler in den Uniliga Rivals mitspielen. In jedem Rival-Team darf jedoch nicht mehr als ein Spieler jeder Vereinigung gewählt werden (inklusive dem Captain).
Das Turnier wird im Round-Robin, Best-of-1 Format ausgespielt. Alle Teams werden so jeweils einmal gegeneinander antreten. Daraus entsteht eine Wertung aus der die zwei besten Teams in das Rivals Finale einziehen. Im Best-of-3 Finale spielen die verbleibenden zwei Teams dann um die Vorherrschaft in den Uniliga Winter-Rivals 2020.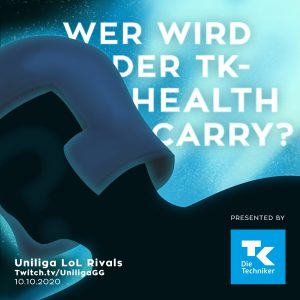 Im Rahmen der Uniliga Rivals küren wir zum zweiten Mal den TK-HealthCarry. Der TK-HealthCarry wird der Spieler/die Spielerin mit dem höchsten Heilungswert in der Uniliga Rivals Gruppenphase.
Dabei ist es egal, ob man sich durch Lifesteal selbst am Leben hält oder als Support seine Mitspieler vor dem Tode bewahrt.
Aber nicht nur der HealthCarry bekommt einen Preis, sondern auch das Gewinnerteam erhält Preise, die uns von der Techniker Krankenkasse zur Verfügung gestellt werden. 
Alle Daten auf
einen Blick
Anmeldeschluss: 04. Oktober 2020 – 23:59 Uhr
Draft: 07. Oktober ab 19:00 Uhr
Turnier: 10. Oktober 2020
TK HealthCarry: TK GoodieBag & 20,00€ Riot Points
Turniersieger: TK Goodiebag & 10,00 € Riot Points