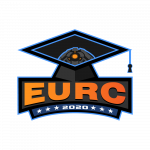 The European University Rocketeers' Championship is an annual event representing the highest tier of University Rocket League in the EU Region.
Over the course of 5 weeks, 32 of the continent's best University teams will compete to be crowned as this year's EUR Champions.
EURC 2021 is a collaborative project run by National Student Esports (NSE) and Uniliga in collaboration with partners in many other countries.
EURC 2021 is open to all full-time undergraduate and graduate students in the EU Region, who must find team-mates from the same University as themselves. There are some exceptions to this for universities who traditionally form combined teams for all university sport – so please check with an admin if you are unsure.
Where can I watch the EURC?
EURC 2021 contains the best 32 university teams on the continent. 16 teams have qualified through university tournaments held in their home countries during the Winter Season. The remaining 16 are filled by open qualifiers to be held on 13th, 20th and 28th February.
Open Qualifier #1: – 17:00 CET Saturday 13th February
Open Qualifier #2: – 17:00 CET Saturday 20th February
Open Qualifier #3: – 17:00 CET Saturday 28th February
Make sure to join our Discord too, as this is where the event will be co-ordinated from and it is the best place to contact the organisers.
You can also use the EURC discord to find team-mates at your University through our team-finder system.